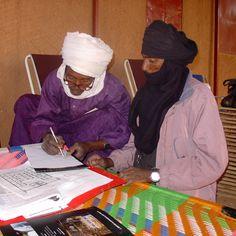 Humanitarian and Development
Place
Sakafat and Agadez, Niger
Sponsor
Michèle Payraudeau
Grant(s)
25 000 € to the Selection Committee at 2006/01/31
  Project leader Grain de Sable
«  Grain de sable focuses on a central project which it then develops coherently, with the immediate association of the administration of Niger and the population. This method enables it to ensure that the project will function rapidly without outside help. »

Michèle Payraudeau
The association Grain de sable, created in 1992, collects the funds necessary to assist the creation of development hubs in Niger. Wishing to act where outside help seems the most indispensable, it pursues a number of projects to accompany the populations living in deeply enclaved and relatively inaccessible areas of the Aïr, north of Agadez. It has been focusing its efforts in the last 10 years on a comprehensive project of schooling for children.
Tuaregs in the majority, the inhabitants of the region are nomads, which discourages schooling of the children, who are often made to supervise the grazing of the family herds. As to the daughters, they attend school even less than their brothers.
A development hub around the school
The first aspect of the project involved the construction of a primary school in Sakafat, a village lying 80 km north of Agadez. Based on this school, a development hub progressively emerged: health center, school garden, women's coops, literacy courses, etc. The children then grew and the most gifted faced the question of further studies: junior high and high school.
At Chirozerine, the nearest village with a junior high school, Grain de sable and its local correspondents first prepared collective accommodation for the schoolchildren. This is because in this town, as in Agadez, it is still very difficult for a rural family to send its children to study, lacking local teachers or decent accommodation.
The same approach is planned in the future in Agadez, to accommodate the forty odd youths of Sakafat who want to continue higher studies. Veolia Foundation has agreed to back Grain de sable to finalize the Sakafat development hub. The 25 000 euro grant will be used to drill a second truck-garden well in Sakafat and install its equipment, and to equip the old one with a foot pump system. A solar panel may also be purchased to equip the health unit with a refrigerator to store the vaccines.