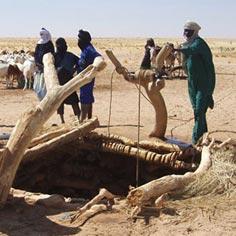 Humanitarian and Development
Place
Niger, Niger
Sponsor
Pierre-Yves Oger
Grant(s)
40,000 euro to the Selection Committee at 2006/05/23
  Project leader Solidarités
After a succession of periods of extreme drought in the past few years, and a destructive invasion of desert locusts in 2005: this year, Niger is again facing a critical food shortage, despite the last wet season being more favorable. According to WFP (World Food Program), 13% of families are facing severe food shortages.
Stronger wells
Under conditions of extreme food shortage, water is obviously completely essential. To help the population have access to a secure water supply, the Solidarités association, which has been working for more than 25 years with the victims of armed conflicts and natural disasters, is rebuilding several dozen pastoral wells in Tadress (Agadez region) in 2006. By rebuilding them with materials designed to withstand the region's extreme temperatures, the 12,500 or so semi-nomadic herders who regularly pass through the region will have access to secure water supply.
For the first stage in this project, Solidarités is planning to rebuild twenty wells in partnership with a local NGO.
The 40,000-euro grant from the Veolia foundation comes on top of the funds already received from the Seine-Normandie River Authority to help finance this series of small construction jobs.