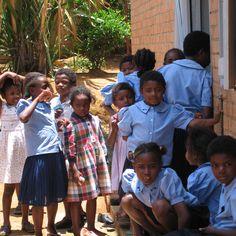 Social and Employment
Place
Fianarantsoa, Madagascar
Sponsor
Isabelle Bergé, Veolia Energie - Dalkia
Grant(s)
25,000 € to the Selection Committee at 2005/12/06
Project leader
Les Enfants du Soleil
Summary
In Madagascar, Les Enfants du Soleil sets the standard for helping destitute children. This non-profit organization works on the ground and manages to save many from prostitution and abuse. And when they no longer have a family to go home to, it takes them in and looks after their education in orphan villages. The sixth village on the Great Island, Fianarantsoa, is designed to accommodate 80 of these children.
Progress report
Carrying on regardless
The organization had provided the money needed for a multi-purpose building with a classroom, administrative office, meeting room, food-storage area, etc. But in July 2005, the European Union suspended food aid to Malagasy NGOs, after Enfants du Soleil had been receiving €100,000 for five years!
As a result, money earmarked for the building's construction was re-allocated to food, an obvious priority.
And the organization began looking for other sources of funding to help it build the building that was so vital to community harmony. The €25,000 grant it was awarded by Veolia Environnement helpED ensure completion of this project.