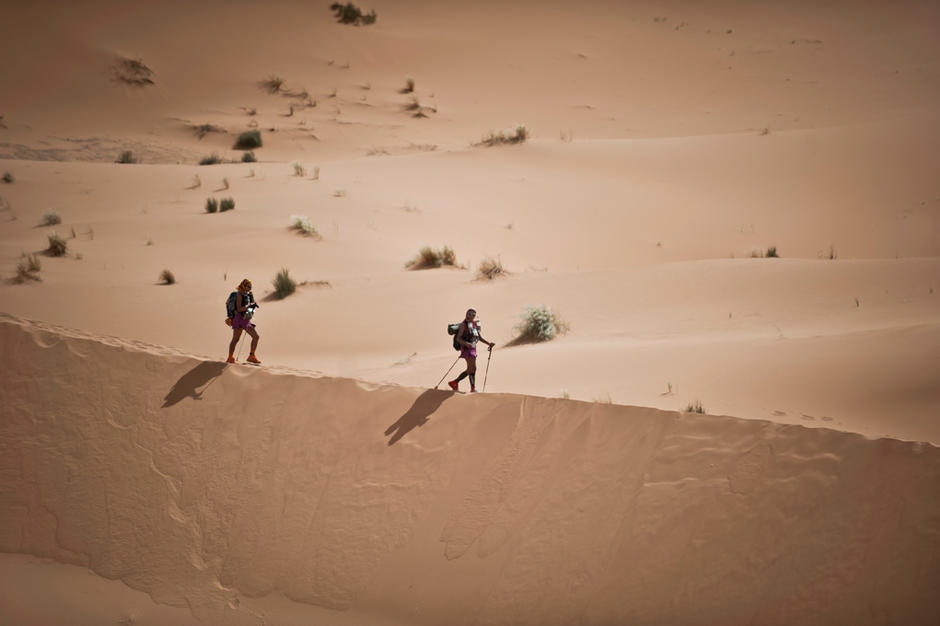 Humanitarian and Development
Place
Southern Morocco, Morocco
Sponsor
Olivier Gilbert
Grant(s)
€25,000 to the Selection Committee at 2005/02/08
  Project leader Atlantide Organisation Internationale
« This is a beautiful human adventure because this race is open to people of all ages and nationalities. Many runners who are natives of southern Morocco, who wouldn't have been able to pay for registration or their kit, have their expenses covered by donors, often other runners or sponsors. As a matter of fact, the winners for the past few years have been two brothers from a modest rural background in the region of Draa. »

Olivier Gilbert
A nice idea: organise a high-level sporting contest, accessible to all, respectful of the environment, with a serious humanitarian side. That is the principle of the Marathon of the Sands, in southern Morocco, a footrace over 230 kilometres in stages during which the competitors are responsible for their own food. It's happened every year for the last 20 years.
 
A race that the local dwellers appreciate
The route of the Marathon of the Sands covers all sorts of terrain: sand dunes, rocky plateaus, dried-out wadis and palm groves.
Besides the fact that this race is open to anyone who wants to do it--a sponsorship system makes it possible for those with limited means to sign up without worrying about costs. Atlantide Organisation Internationale, the outfit that started this event, also made it a point to add two other aspects to it.
The first is environmental: all the rubbish produced by the racers and those accompanying them is collected and destroyed every evening in an incineration lorry.
The other is humanitarian: the 38 doctors attending to the race spend half a day visiting the villages that the marathoners go through and offer medical care to anyone who wants it. Similarly, the organisers select one or several development projects in one of the areas where the race passes through. They then call upon athletes and sponsors to complete these projects. For example, that's how water pumps were installed in isolated villages, vehicles were donated to a home for the handicapped in Ouarzazate and hundreds of kilos of school supplies and equipment were taken to schools.
In 2005, the marathon, which had 800 participants, served to equip two schools in the villages of Tarricht and Amougger, in the region of Zagora, on the edge of the desert.
The Veolia Foundation participated with a €25,000 grant in building the sanitation facilities and laying the pipes needed to bring in a water supply.