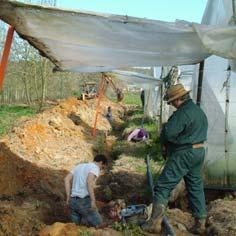 Social and Employment
Place
Marcoussis, France
Sponsor
Patrick Sauvegrain
Grant(s)
20,000 € to the Selection Committee at 2008/01/29
Project leader
Since 1999, at Marcoussis, in the Paris suburbs, the association Les Potagers de Marcoussis has been helping persons in serious difficulty to reintegrate in social and professional life through an organic truck farming facility. This agricultural activity helps this public (minimum wage earners, long-term unemployed, unskilled youths, single women, refugees, etc.) to recover the urge to work, rigor and a method, and also greater ease in living with others and above all, with themselves.
Their vegetable produce is sold and distributed in the form of baskets to the members of the association (353 in December 2007) living in Paris and in the southern suburbs.
In 2006, after leaving Le Potagers du Marcoussis, eight gardeners found a job, five persons began skills training, and another joined a specialized structure (CAT).
Today, the association has twenty-two persons on aid contracts.
Upgrading the work of the beneficiaries
As it approaches its tenth birthday, Les Potagers de Marcoussis has succeeded in finding its public. Even better: demand is growing steadily, as more and more families appreciate the savor of organic vegetables. The only problem: the cultivated plots are still not profitable enough today because of the water supply. The irrigation system has in fact become obsolete and too haphazard, preventing the production of sufficient and regular harvests.
The association therefore decided to equip its greenhouses with an appropriate, simple and effective system. It relies on the positive experience of another Jardin de Cocagne, located at Blois, which has been operating since 2006 with the BARS (Rational Greenhouse Sprinkling) system. Positioned above the plants, it allows accurate, adjustable watering, adapted to the crops, optimal water management, and also enhances the work of the gardeners. The association also has to acquire new maintenance equipment and tools.
The Veolia foundation was approached to participate in the purchase of this equipment and of the greenhouse irrigation system. The system will be installed by the gardeners and the staff with remote assistance from the supplier.
 
---
Other project supported
Cultivating solidarity, together
Domain : Social and Employment
Country : France
Endowment : 2011/10/20
Development of a back-to-work organic vegetable garden thanks to the irrigation of new cultivated plots