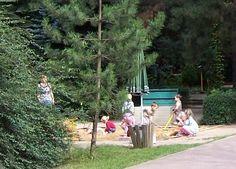 Environment and Biodiversity
Project leader
Volkssolidarität
Place
Trebsen, Germany
Sponsor
Wolfram Scholl
Grant(s)
25 000 € to the Selection Committee at 2007/10/02
"I think it's a great idea to start making the children aware as early as possible about the issues of renewable energies. Especially since the message is also aimed at their parents and grandparents, who can learn from the example of the kindergarten and install a solar heating system at home."
Wolfram Scholl
In the middle of the Trebsen Park, in Germany, the "Nest" accommodates 108 children. In a spirit of openness, the establishment also equally welcomes handicapped and able bodied children, thereby illustrating their values based on tolerance.
In its teaching program, the "Nest" also places special emphasis on the development of their creativity and their respect for nature.
The building, dating back to the 1930s, nevertheless needs to be refurbished. The town of Trebsen, the owner, plans to refurbish it to make it more appropriate for the needs of the children and, at the same time, warmer and more welcoming. With a concern for safety, it also plans to install a more effective fire prevention system than the present one, and wants to optimize its energy consumption. A project scheduled to stretch throughout the two years 2008 and 2009.
A solar heating system for all
The Kreisverband Leipziger Land/Muldental branch of the National Association Volkssolidarität, which has been managing the "Nest" for about 15 years, has decided to take advantage of these major operations to realize economies by opting for renewable energies. The roof of the kindergarten will therefore be equipped with a solar heating system, that will produce hot water and consume less energy for heating.
By combining the useful with the educational, the association will also benefit from this new installation to expand the awareness of the children and those of the two neighboring schools. To make them understand how solar energy heating operates, a "miniature" laboratory will be designed, in the form of a small home connected to a computer. It will help to develop simple and practical experiments. Explanatory posters on renewable energies will also be produced.
The Veolia foundation is committed to participate in the financing of this solar heating system, which is aimed to familiarize the children, and also to demonstrate the advantages of solar heating to the parents.