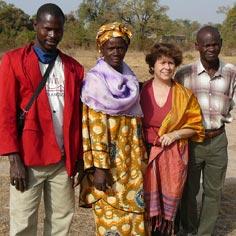 Social and Employment
Place
Kadiolo, Mali
Sponsor
Frédéric Gogien
Grant
10,000 € to the Selection Committee at 2006/10/03
Project leader
Binkad
"This project, which was conceived at a local scale and developed around a strong exchange with the village and Binta's host family, is bound to culminate positively. I believe that the support of the structure which is accustomed to working on development projects will be very useful and will help to meet the initial objectives."
Frédéric Gogien
A magnificent tale of outreach. In the beginning, Mr. and Mrs. Hugon, who belong to a network of welcoming families of the association Mécénat Chirurgie Cardiaque, welcomed little Binta to their home during the time of her post-operative convalescence. Bonds were established. They intensified during a trip to Binta's village, Kadiolo, located in the far southeast of Mali, in the Sikasso circle. The two families became very close and decided to work together for the development of Kadiolo.
With the youths of Yvelines
The association Binkad was accordingly born. Its first projects concerned all the villagers: the creation of truck gardening activity for the village women, construction of two additional classrooms for the kindergarten, enlargement of the library, to be equipped with a computer room.
To help it complete these three projects, Binkad turned to France through the General Council of the Yvelines, which engaged young volunteers aged 18-25 as part of its "Humanitaire Jeunes 78" program. The municipality of Le Vésinet and the association AFD Mali also came aboard.
With the grant of fondation Veolia in addition, Kadiolo will soon see the culmination of these first three projects. Afterwards, given the quality of the relations established around little Binta, there's a good chance that other things are in store for Binkad.