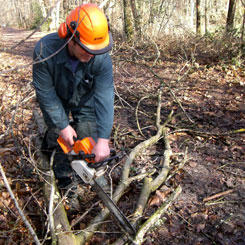 Social and Employment
Place
Chateauneuf-sur-Sarthe, France
Sponsor
Patrice Viau
Grant(s)
€10,000 to the Selection Committee at 2011/10/20
Project leader
Solipass Ancre Verte
"I've known the protagonists of this project for over 10 years, and I guarantee their professionalism and the quality of their work."

Patrice Viau
The nonprofit Solipass Ancre Verte is a back-to-work agency, created in 1992, which has set the objectives of riverbank upkeep and development (Sarthe, Mayenne, etc.); a woodland spreading over the community of communes of Châteauneuf-sur-Sarthe, in order to accommodate ramblers and sportsmen; and to create and to maintain walking trails. To do this, Solipass Ancre Verte employs a staff of people in back-to-work situations, suffering from the economic crisis that has sharply struck this region since the early 1990s.
Need for better technical tools
Over the years, the agency has grown from 8 to 12 back-to-work employees. Solipass Ancre Verte has also extended its action to the neighboring Tiercé community of communes and is busy in new areas, including the removal of jussia (polluting algae) on the rivers and the sorting of general rubbish for the characterization of household refuse. The nonprofit wants to respond to the calls for bids for the upkeep of open spaces that will be issued by several neighboring communes in 2012, and it feels it needs better technical tools to open up to new markets. These new activities should also enable the back-to-work employees to increase their working time and their incomes. The project therefore involves professionalizing the open space upkeep activity by equipping the nonprofit with more efficient mechanized farming equipment and by providing better technical training for the back-to-work employees, enabling them to find jobs more easily when the back-to-work spell is over.