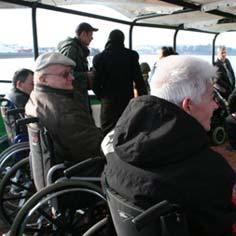 Social and Employment
Place
Douarnenez, France
Sponsor
Jean-Yves Doare
Grant(s)
20 000 € to the Selection Committee at 2007/05/22
  Project leader Optimiste 29
«  A relative of mine had polio from birth. I still remember the moments of happiness we shared on the edge of the bay of Douarnenez, which is my native town. A simple ramble on the beaches or a swim in the bay gave him the feeling of being just like us and of being able to share the activities reserved for healthy people at the time. These moments also gave the opportunity to share madcap surprises because nothing was ever simple: difficult access to the beach, wheelchair engulfed by the rising sea, suspicious looks from certain persons, arguments with his parents because he came back home soaked and overexcited by these intense experiences. Yet they enabled him to escape and kept up his morale when he needed it. And to prove this, I still have his collections of poems where he related everything with the memories of those happy times. He is no longer with us today, but the project of Optimiste 29 reminds me how much he would have loved to board a ship to recover this feeling of freedom once again .  »

Jean-Yves Doare
For most people, seagoing means adventure, escape, total freedom. But for handicapped persons, these feelings, even more important for their morale than for others, must be expressed from terra firma. While they can certainly dream..., reality is definitely out of reach.
Created in 2003 on the initiative of professional sailors, the association Optimiste 29 decided to make the dream a reality. It has renovated an old fishing boat anchored off Douarnenez, the "Richard Marika", and enlisted a crew of motivated volunteers and experienced seamen to conduct excursions in complete safety.
Coming soon, the "Tourisme Handicap" label
Thanks to them, it offers persons in a handicapped situation seagoing excursions (with a visit to a fishing port, the coast and the beaches), picnics in small isolated inlets, anchorages, and fishing trips. The ship has already been outfitted to easily accommodate persons with impaired mobility: twice the quantity of safety equipment, gangplanks and boarding cranes, handrails and obstruction display strips. In 2006, nearly 300 persons went to sea in this way, on excursions lasting up to five hours.
Yet, to enable even more handicapped persons to enjoy these maritime pleasures, Optimiste 29 wants to obtain the "Tourisme Handicap" label. To do this, additional installations need to be completed. With the grant from the Foundation, the "Richard Marika" will soon have a system for lashing chairs to the deck, additional handrails, a balcony, low level windows below the bridge for the children and appropriate sanitation. At Douarnenez, no one is going to be left behind on quay!