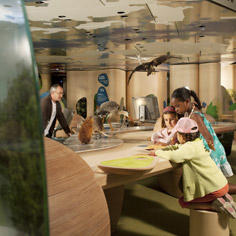 Environment and Biodiversity
Place
5th district, Paris, France
Sponsor
Éric Lesueur
Grant(s)
300,000 € to the Board of Administration at 2005/05/31
  Project leader Muséum national d'Histoire naturelle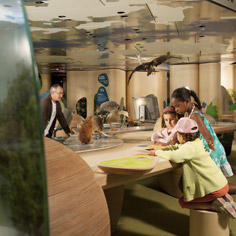 In keeping with one aspect of the natural history museum's five-fold remit (to build ecological awareness through exhibitions and publications), the Great Hall of Evolution has welcomed over six million visitors and enjoyed growing popularity among the young. However, the current educational area adjacent to the hall was cramped and impractical. The Museum's staff have therefore entirely redesigned it, to create a permanent place for discovery, experiments and exchanges: the Galerie des Enfants, the Children's Gallery.
An educational area for children
Dedicated to 6 to 12 year olds and their families, this new space aims to give the visitors a clear understanding of the diversity of living beings, and to educate them about the impact of their way of life on nature. Four emblematic environments are staged there on a total area of more than 500 m²: after the city, the river and the tropical forest, the discovery continues with a dynamic approach to the future of the planet, where everyone is invited to reflect on his own interaction with the environment.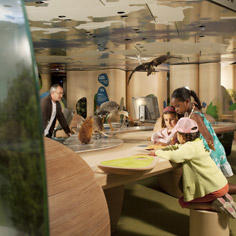 Thanks to an original museography, the Galerie des Enfants strives to be a social space open to all and intergenerational: the families are encouraged to share a sensory, motor, auditory, visual and tactile experience. The handicapped children participate in exhibitions thanks to a variety of innovative devices: ambient sound, contrasting colors, as well as maquettes and sculptures of animals to be touched, Braille items, video in sign language.On the whole, nearly 400 touchable naturalized specimens and animal sculptures are offered to the senses. The invention continues in the two adjacent rooms, which propose workshops and entertainments open to all: storytelling, shows, experiments, etc.
Inaugurated on June 28, 2010, the Galerie des Enfants was created thanks to the museum's own resources and the participation of the Veolia foundation, the leading sponsor of the project, which made a grant of 300,000 euros, to furnish the exhibition rooms and to design the scenography.