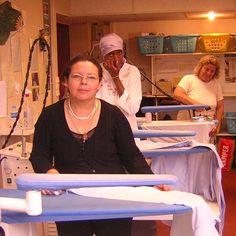 Social and Employment
Place
Ile-de-France East, France
Sponsor
Catherine Galey, Veolia Eau
Grant(s)
15,000 € to the Selection Committee at 2005/07/05
Project leader
MSEF (Ménage service emplois familiaux)
«  The staff are young, friendly and highly motivated. The project meets an important requirement on the part of local people, whether they be customers or jobseekers. »

Catherine Galey
Just under 95% of them are women, they have an average age of 40 and are on income support or have been unemployed for so long that finding a regular job is nigh on impossible.
Working out of three sites in Aulnay-sous-Bois (93), Villeparisis (77) and Cachan (94) MSEF (Ménages service emplois familiaux) gives them a chance to return to the workplace and learn new skills as part of the IAE (integration by economic activity) programme. The association employs 200 staff and has 25 permanent members who play a supervisory role. Those undergoing retraining remain within the structure for six months to three years, in order to build up confidence and establish clear career objectives. They provide a number of home services: housework, ironing, support for the elderly, home delivery of linen.
Developing services in rural areas
In each of the three departments where it is present, MSEF now has an established reputation and is enjoying growing success. In Seine-et-Marne, around the town of Villeparisis, there has been a upsurge in interest from residents of isolated villages whose access to public transport is limited. The association must therefore add new vehicles to its ageing fleet in order to meet current demand.
The 15,000 euros in funding granted by the Veolia foundation will help cover the cost of two vehicles which the association plans to purchase.