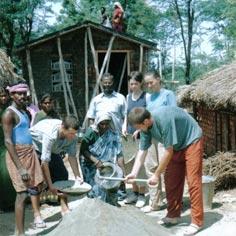 Social and Employment
Place
Mangalapuram, between Pondicherry and Madras, India
Sponsor
Dominique Duda
Grant(s)
€4,000 to the Selection Committee at 2005/04/05
  Project leader Antipode India
«  These students display a remarkable commitment to a very down-to-earth humanitarian mission. »

Dominique Duda
The caste system in India is still strong and the "Untouchables" are at the bottom of the social ladder, the poorest among the poor. To help an Indian association founded by Untouchables in 1975 — the People's Multipurpose Development Society - Liberation Movement for Women — the Student Association of the Catholic Arts and Crafts Institute of Nantes, known as "Antipode Inde", has been working side-by-side with them since 1999.
 
Every summer, new houses
Mangalapuram is the Untouchables' village, 50 kilometres from Pondicherry and 40 kilometres from Madras, where Antipode Inde helps build houses. Each house is worth about €1,200. Since 1999, the students have been collecting the required money during the school year and go to India to help out on the construction sites.
At the beginning of 2005, they had already gathered €4,000 for a new set of building sites. The Veolia foundation gave them a €4,000 additional grant to make possible the construction of eight new houses.