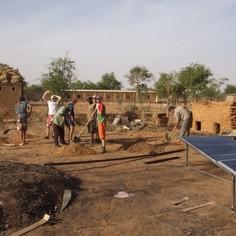 Humanitarian and Development
Place
Barapireli, Region of Mopti, Mali
Sponsor
Benoît Blanchard
Grant(s)
8 000 € to the Selection Committee at 2009/09/29
Project leader
Association Foyer des Élèves du Lycée Professionnel Coëtlogon
Le Foyer des Élèves du Lycée Professionnel Coëtlogon is a nonprofit educational association created in 1978 which sets up various social, cultural and sports activities to contribute through logistic aid to the creation of international outreach projects, in which they participate, from design to implementation in the field.
Today, in the village, elbow grease is the method used to raise the water from the traditional wells, via the four public standpipes supplied by a water tower connected to a water supply system, itself powered by a set of solar panels.
However, the electrical grid of the parish, that of the dispensary and the maternity ward, as well as the water supply network of the truck farming area are powered by a generator that runs daily from 6 to 9 pm. But the parish, which is in charge of it, can no longer afford to pay the cost of pumping the water required for the crops.
The students of the 1st electrical engineering graduating class of the high school of Rennes designed a project to power the pump by solar panels
To lower the cost of pumping, the students association, in partnership with the village of Barapireli, have decided to replace the power generator by solar panels.
This solution not only covers the truck farming activity throughout the year, but also enlarges its area, and therefore the number of leased plots for the parish. It will also make it possible to supply the school with water free of charge all year round, and to provide electricity daily without interruption to the dispensary, the maternity ward, and the women's promotion center of the parish.
Since September 2008, twenty-four students of the electrical engineering graduating class have been working three hours every week on the project, which is designed to propel the village into a pattern of sustainable development. To guarantee the success of the project, they prepared the trip and the worksite, made contact with the various associations, compiled the applications for subsidies, planned the electrical installation, the estimates, budget, and intensified the discovery of the country and its culture.
In the field, 12 of them will participate in operations on the spot in January 2010 in the company of two of their teachers with experience in outreach projects, including one already carried out in the same village of Barapireli.