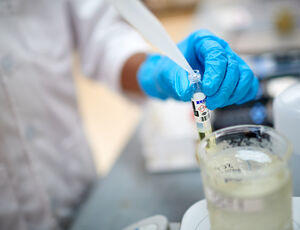 Environment & biodiversity
Location:
Paris
Sponsor:
Sandrine Oberti
Grant :
€10,000 on 08/07/2020
Project leader
Created in 2013 and recognized as being a public interest organization, the Fondation de l'Académie de Médecine (FAM) focuses its activity in four areas. The first relates to raising public awareness of the environment, aging, food and innovation in the field of health. Then comes sharing medical knowledge with as many people as possible in France and abroad. The institution is also involved in supporting grassroots community initiatives and scientific projects. Finally, since it became a "shelter" foundation in 2018, FAM has been supporting, advising and guiding health and society focused foundations on a daily basis.
A scientific partnership
The Veolia Foundation, together with Veolia's Water business and Scientific and Technological Expertise department, supports the Academy of Medicine Foundation in its mission to share knowledge on one subject: human exposure to chemical pollutants. This health issue, which is covered by the media all over the world, is a major social issue. It has implications in the scientific, political, social and environmental fields.
A first symposium was held in November 2020 on the theme of health risks related to multiple exposure to environmental chemical pollutants. Open to the public, this symposium brought together French and international scientific experts (physicians, chemists, biologists, etc.) as well as political, economic and associative stakeholders.
Find a summary of this conference (IN FRENCH):
And the complete conference here.
This first opportunity for discussion kicks off a cycle on the subject of the exposome with the aim of identifying the risks to human health from exposure to chemical pollutants in the environment. The challenge is to review the methods used to characterize hazards, assess exposures and quantify the risks. A second debate is scheduled for April 26, 2021.
What is the exposome?
The approach consists of taking into account all the environmental (pollutants, fine particles, radiation, endocrine disruptors, noise, etc.), sociological and lifestyle factors (stress, working conditions, sports activities, diet, etc.) that affect human organisms over the course of their lifetimes.
For scientists, the exposome provides a new framework for studying the environmental causes of chronic diseases and pathologies that are still poorly understood - the aim being to adapt the necessary medical treatments and care.
A 2nd conference in 2021
The second symposium will be held on April 26, 2021 from 2:00 pm to 6:00 pm, in remote mode, on the theme "Known links between Exposome and diseases".