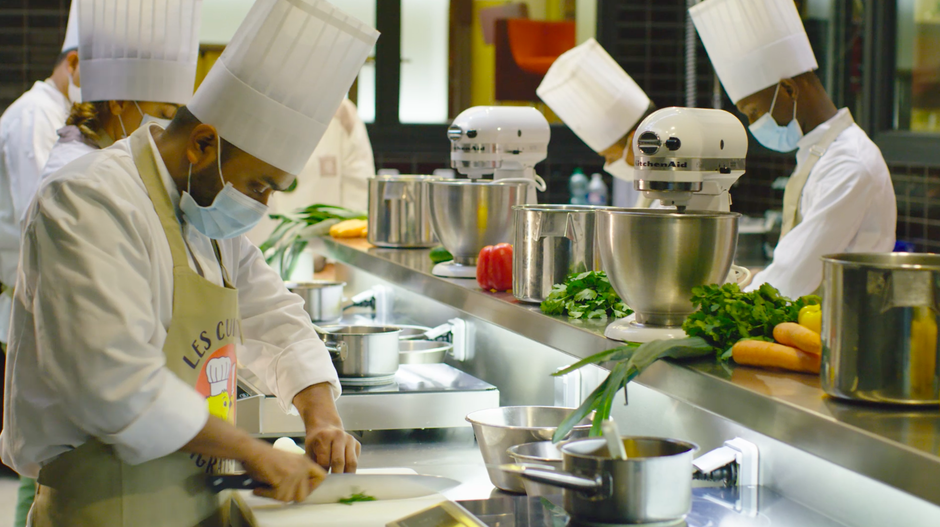 Social & Employment
Location:
Paris (France)
Sponsor:
Salma Gourram
Grant:
€8,000 at the selection committee meeting on 16 March 2020
Project Leader
Since its foundation in 2016, Les Cuistots Migrateurs has succeeded in combining integration with real economic activity. An innovative social enterprise, the company employs refugee cooks in order to offer its customers food from Syria, Iran, Afghanistan, Nepal, Ethiopia, Bengal and Senegal. The catering activity has sold more than 300,000 meals and in 2019, will be supplemented by a restaurant-café opened in the 11th arrondissement and a cookbook published by La Martinière.
From social enterprise to non-profit school
Thanks to this sustainable economic model, Les Cuistots Migrateurs has been able to hire ten refugees on a full-time, permanent basis. The result is the same number of people with access to better housing and living conditions who have seen their efforts rewarded…
To continue to promote talented people and their recipes, the enterprise is now seeking to expand its model and go further in its social impact by setting up an association.
Cooking, opening up a dialogue
The project consists of setting up a cooking school to train and support refugees on their way to employment. The main objective will be to obtain the Certificate of Professional Qualification (CQP) in cooking, with a focus on world kitchens to enhance the learners' culinary heritage.
In parallel, in addition to learning how to cook, the school will provide French courses and cross-curricular support. During and after their training, the students will benefit from individual support to work on their project and ensure better job integration.
Les Cuistots Migrateurs also plan to make their establishment part of a responsible cooking movement by favouring the use of local, seasonal products and fighting food waste.
The overall idea is to make it a space for sharing and exchanging ideas about world cuisine. The school will also be open to the public. It will offer the possibility of sharing a meal and being received by the cooks-in-training in a convivial and atypical space. Being open to the general public will be an opportunity for the cooks to put their training into practice and showcase their recipes.