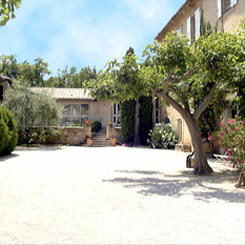 Social and Employment
Place
Pont des deux Eaux District, Avignon, France
Sponsor
Jean-François Perfettini
Grant(s)
15,000 € to the Selection Committee at 2011/04/05
Project leader
"This is a project that provides answers to the problems of some fifty Avignon families by providing work for handicapped persons. I'm proud of our company's contribution. The "La Roumanière" brand is famous because it is distributed in high end groceries and the retail trade. The nature of the project encourages a commitment because it conveys the values of responsibility and local solidarity of the group: back-to-work for people in difficulty, job creation, proximity service."

Jean-François Perfettini
Association Vauclusienne d'Entraide aux Personnes Handicapées (Aveph) was created in 1978 by parents and friends of handicapped persons at Robion La Roumanière, to contend with the problems of accommodating these persons in the district. From the start, Aveph wanted to created small structures in which the beneficiaries and their associated families have the lion's share. Working alongside the authorities and private organizations, the nonprofit has acquired a solid reputation for its social action, as well as its business expertise.
A laundry and a jam and honey house in Avignon
Since 2008, on the urging of the Ddass social services of the Vaucluse, Aveph initiated an ambitious project designed to address demand for psychically handicapped persons living in Avignon. It received the endorsement of the National Committee of the Medico-Social Organization to create an Esat business unit. The land for accommodating the center was found in a neighborhood on the outskirts of Avignon, Pont des deux Eaux, abundantly served by public transport. The nonprofit went into the operational phase of the project in 2011.
The aim is to expand the jam production operation of Esat La Roumanière to include a laundry operation for the municipalities. The project also includes the creation of a new jam jar assembly line and a honey house, in which the members of the nonprofit are initiated since 2011 by a producer on the verge of retirement.
Some fifty persons, mainly suffering from psychiatric disorders, benefit from this project, which means the creation of 12 open-term jobs: technical educators, workshop monitors, maintenance technicians, administrative technicians, managerial staff. By basing its action on a highly individualized approach, by guaranteeing the beneficiaries dignity in labor and physical and psychic security, by surrounding them with tolerance while remaining firm on respect for the operating staff, Aveph offers them the opportunity to rebuild a self-image, a sense of belonging and usefulness, which are the very basis of creating a social link.
To carry out this important project, Aveph has secured the assistance of the Regional Health Agency, the Town Hall of Avignon, and the National Committee for Coordination of Action in Favor of Handicapped Persons. The Veolia Foundation is contributing specifically to the equipment of the jam and honey house.