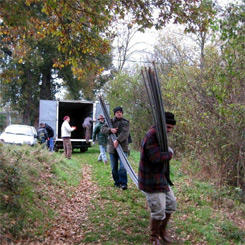 Social and Employment
Place
Salles-sur-Garonne, France
Sponsor
Franck Lemaguet
Grant(s)
€8,000 to the Selection Committee at 2011/10/20
Project leader
Les Jardins du Volvestre
"I'm confident of the success of this project, because the location, nice farmland along the Garonne, facilitating irrigation, and a rich soil, is excellent. Besides, this offer of services, which is rare in the southern Toulouse area, will, I'm absolutely sure, be a smashing success!"

Franck Lemaguet
The nonprofit Les Jardins du Volvestre was created in 2010 by the determination of the syndicat intercommunal à vocations multiples (Sivom) of Rieux-Volvestre to encourage a business development project in the commune de Salles-sur-Garonne (Haute-Garonne). This organic truck farming project with a social and professional integration aspect is a standard jardin de cocagne, which, through the production and distribution of organic vegetables in the form of weekly baskets, to member-consumers, offers the opportunity to adults in difficulty to find a job and (re)build a personal project. As to the land, the Sivom has provided the nonprofit with 5 hectares of farming land, which it owns, and will be the contracting authority for the construction of buildings (offices and technical rooms) meeting eco-construction standards (exemplary worksite and model) in order to guarantee comfortable work and the lowest possible operating costs (energy, water).
Quality products from the soil
The idea is to make Jardins du Volvestre an exemplary model of sustainable development, for quality products from the soil. And as of the late 2010, this is an accomplished fact; staffed by 2 technical experts, 14 persons under a unique socioprofessional back-to-work contract participate in running the farm. But the nonprofit wants to continue growing and to finalize its production capability in order to expand its sales potential and boost the number of members (40 baskets for winter 2011, 150 in spring 2012 and 300 in 2013). To do this, a new greenhouse featuring an irrigation system is necessary and will lead to five new jobs under fixed-term contracts.