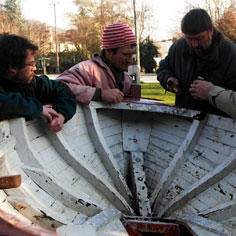 Social and Employment
Place
Le Tourne, France
Sponsor
Bertrand Auneau
Grant(s)
13 500 € to the Selection Committee at 2007/05/22

  Project leader Les chantiers Tramasset
"A group of youths who all work hard, unpaid, with extraordinary enthusiasm, love for their neighborhood and total friendship."

Bertrand Auneau
The Tramasset shipyard, active until 1985, became in industrial wasteland in the 1990s. The association Les chantiers Tramasset was founded to breathe new life into this facility. Since 2004, it has been organizing reintegration projects, weekend courses and discovery trips. The aim is to perpetuate the knowhow associated with the renovation and construction of wooden ships. Throughout the year, the dozen beneficiaries of the reintegration project are staffed by four employees for the maintenance of the ships and the port.
Developing activity on other sites
The association works alongside the social services and municipalities. The professional reintegration candidates it receives maintain the site and open it for each visit by school groups. The next step is to expand the clientele. For this purpose, the Tramasset shipyards want to acquire a transport vehicle, to facilitate the procurement of materials and expand the client base by operating on outside sites. The Veolia  foundation supports this initiative by financing the purchase of the vehicle alongside the Regional Council of the Aquitaine. The Tramasset shipyards are preparing to welcome new customers.