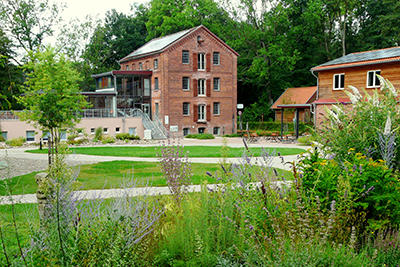 Social and Employment
Place
Uelzen, Germany
Sponsor
Andreas Von Schönberg
Grant(s)
32,000 € to the Selection Committee at 2009/01/27
Project leader
Gemeinwesenorientierte Arbeit im Kreis Uelzen e.V.
« In a rural area like ours, it's very important to invest in the future, especially since we happen to be in the throes of demographic change. The future belongs to youth.
Young folks have two reasons to remain in the area: finding a job; and living in the midst of a rich natural and cultural heritage. The Woltersdorfer Mülhe project ideally allies these two factors. »

Andreas Von Schönberg
At Uelzen, in Lower Saxony, the association Gemeinwesenorientierte Arbeit e.V. was founded in 1999 to develop social and workforce development projects aimed at persons in difficulty.
It conducts two types of actions to do this: it employs nearly 400 persons in the collection and processing of used property (clothing, furniture, home appliances), the upkeep of open spaces, and support for elderly persons.
At the same time, it welcomes jobless youths in its professional qualification centre. Every year since 2005, it has taken about 40 young adults under its wing, providing them with skills training in the areas of electricity, textiles, office work and personal services.
A highly ecological renovation
For several months already, the association has plans to move and enlarge its centre. It has purchased an old windmill, the Woltersburger Mühle, located 3 km from the town. The new training school will be installed in the completely renovated windmill, in about five years time. The site is important and interesting in more than one respect. It will be run by jobless youths, trained and directed on the spot by master craftsmen, thereby guaranteeing the quality of their professional training. Seven jobs will thus be created during the construction period.
This refurbishing will also be conducted with a determination to make full use of the natural and historic heritage of the region, by systematically using ecological methods and technologies. For example, the future school will be heated by a hybrid geothermal and wood system, and photovoltaic installations will be used for hot water. Outdoors, the biotope of the lakes will be maintained, orchards will be planted, and the wastewater will be treated by a mini-wastewater treatment station by phyto-purification, built with the help of the Veolia Foundation.
In addition, five mini-cottages will be built to accommodate groups of young trainees or visitors.
Ultimately, the Woltersburger Mühle will thus perform a dual function : a pre-professional training centre for jobless youths, it will also serve as an ecological showcase. This is sure to dynamise the region enduringly. When the new centre is up and running, it will employ 12 persons for the staff and will train about 40 young folks.