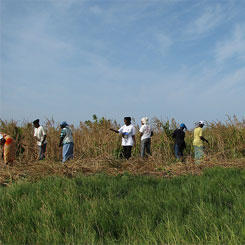 Humanitarian and Development
Place
Gandiol, Senegal
Sponsor
Bernard Lecomte
Grant(s)
€ 4,000 to the Selection Committee at 2012/10/09
Project leader
Fatoukou Entraide Senegal
The nonprofit Fatoucou Entraide Sénégal operates in Mballing andGandiol, two villages in the Thiès area in Senegal, promoting training, health, education and work. A needlework shop has accordingly been setup in these two bush villages, and it is planned to sink a well, designed to stimulate cultivation, diversify food intake and put destitute young adults to work. In Mballing, the nonprofit is also active in a dispensary and day nursery.
Diversified food
Today, Fatoucou Entraide Sénégal wants to develop market gardening in the village of Gandiol, a bush village located between M'Bour and Nianing. Under the supervision of Mr. Dieng, a Senegalese farmer, 20 young adults will learn all about market gardening. Arrangements are therefore necessary, such as the sinking of two wells to irrigate the crops, the construction of two overflow basins, as well as the storage building for the farm equipment. The village will also have to acquire a pumping system. Besides training and professional proficiency, this development will enable the young adults to earn a living and the village population to diversify their food intake.
The Veolia Foundation is taking charge of the sinking of the two wells, the construction of the two overflow basins, and the storage building for the farm equipment, plus the purchase of the pumping system.