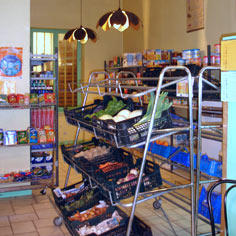 Social and Employment
Project leader
Alis
Place
Lyon, Rhône., France
Sponsor
François Coutin
Grant(s)
3 500 € to the Selection Committee at 2007/01/31
«I have been sensitive to the entire mission of the association. The grocery store is not only a place to buy groceries but a place to benefit from essential teaching activities».
François Coutin
Created in 1988, ADN Service has dedicated itself to creating employment programs for the poorest people. They have developed in two ways. First, it allows its members to utilize a network of companies, craftsmen, associations and collectives to help them socially and professionally. Second, the association has created employment programs that help people economically.
In Lyon, Alis own a kitchen garden named « Le Potager de la Cressonnière » and in the 9th arrondissement a grocery store. These two establishments are run by people in the Alis Employment Program.
A bit more than a regular grocery store
The kitchen-garden employees ten people partime who have signed an employment contract They learn the secrets of cultivating vegetables and taking care of gardens. The grocery store is staffed by one full time employee and half a dozen partime employees.
What is the originality of the program? First, it helps jobless people return to work. These job beneficiaries are helped by the Alis employees for a six month period that may be renewed. They may also take part in teaching programs where they learn about the basics of food hygiene, how to handle the financial aspects and a budget and how to reduce the consumption of energy. Alis has contracted with VEF in order to find financial help so that they may purchase a new deep freezer and isothermic containers that will enhance their proposition.