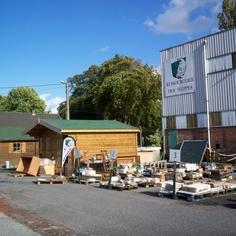 Social and Employment
Place
Lille, France
Sponsors
Loïc Coutelle and Guillaume Wallaert Grant(s) 15 000 € to the Selection Committee at 2009/09/29
Project leader
Adelies Weppes
"Adelies Weppes is active in re-use, one component of the waste management circuit, which is complementary to the operations of Veolia Propreté and fits into an environmental logic: to guide the waste toward the ideal system to optimize its utilization, and in this case, re-use of equipment/materials which can easily be reconfigured and used again for their original purpose."

Loïc Coutelle
The re-use of materials is a very simple concept: the idea is to recover and reinject, into a specific commercial circuit, objects destined for incineration or a landfill, and which can have a second life.
Metropolitan Lille has many waste disposal facilities, and since 1999, Ressourcerie de Weppes - managed by Adelies Weppes - has been retrieving objects and bulky waste from two of them, a total of 200 tons per year.
Since 2007, the structure has entered a new market, which today accounts for 25% of its activity: the re-use of secondary materials. Thus in the building sector, for example, concrete blocks and tiles can often be used again. In fact, the warehouse is located right on the actual site, thereby minimizing transport and hence CO2 emissions.
Consumers are now aware of the issue of the scarcity of raw materials, and the Ressourcerie has accordingly raised its targets.
New jobs, larger storage area ... which means, new facilities
Adelies wants to "produce" 200 tons of re-use materials from 2013 and now plans to retrieve objects from three drop-off centers, up from the previous two.
The 7000 m2 site therefore has to be reorganized, the lifting, handling and storage tools improved. The Foundation will support Adelies in these arrangements. More importantly, this development will help make the technician's job created this year permanent and hire a handicapped person (AAH certified) part time. An application to open two more back-to-work positions through economic activity for long-term jobless persons is simultaneously being filed with the Labor administration.
A perfect illustration of the association's slogan: "One man's waste is another man's want."