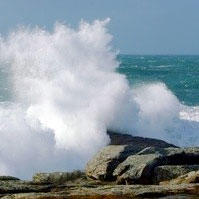 Social and Employment
Place
Dinard, France
Sponsor
Jean-Luc Davoisne
Grant(s)
€20,000 to the Selection Committee at 2011/06/28
Project leader
"Merlib is the only nonprofit in Europe today that offers this kind of service, free of charge, by relying on the solidarity of companies and municipalities sensitive to handicap issues and concerned to open the world of the sea to persons in wheelchairs. So that tomorrow, hundreds of handicapped children can enjoy the pleasures of the sea each year, thanks to its new boat."

Jean-Luc Davoisne
The nonprofit Dinard Handicap Nautisme, better known as Merlib, is the product of a passion, the passion of Luc L'hôtelier, its founder, for the sea. A passion hampered by his hemiplegia, which incited him to design a gangplank to enable people like himself to board a boat without leaving their wheelchairs. A simple idea, and yet the only initiative of its kind in Europe. Thanks to the commitment of sailing enthusiasts, Merlib modified a standard six meter long motorboat, the Sphinx, in 2007, to enable it to accommodate four persons in a wheelchair in complete safety. They also converted it to be navigable by a paraplegic. The Sphinx, approved by the Maritime Affairs Office of St Malo, has enabled the nonprofit to offer handicapped persons not only access to the pleasures of a sea outing, but also, since 2009, to earn their boat license, thanks to an agreement with the St Malo sailing school organization. Besides, through partnerships with structures receiving handicapped children (including the rehabilitation centers of Garches, Kerpape, Coubert, Granville and the nonprofit 4 veaux les mouettes), Merlib organizes some fifty sea outings every year. This makes a total of nearly 400 children who have benefited from the installations of the Sphinx since 2007.
A new boat to accommodate more passengers
Many welcoming structures for paralyzed children have approached Merlib, but the Sphinx can only accommodate three wheelchair bound children with one attendant and a pilot. The nonprofit is therefore launching the construction of a new redesigned boat, capable of taking aboard up to eight persons in a wheelchair and three medical attendants. The aim is to buy a new boat built to specifications based on the experience gained with the Sphinx. The construction of the aluminum boat and its outfitting required ten months of work for the AASM shipyards in Longueville and then Dinard Marine, after validation by the Maritime Affairs Office and sea trials. The first outings are scheduled for 2012.
Merlib wants to democratize the concept and propose counseling to the towns, nonprofits and communities of the western seaboard sensitive to handicap issues: advice on setting up a project, plans for adapting a boat, leasing the Sphinx for local events, training volunteers.
Alongside the Pfizer Foundation, which is participating in the construction of the boat under the auspices of Fondation de France, the Veolia Foundation has agreed to provide Merlib the funds for the two passenger gangplanks and the pilot gangplank, all three equipped with motorized elevator tables.