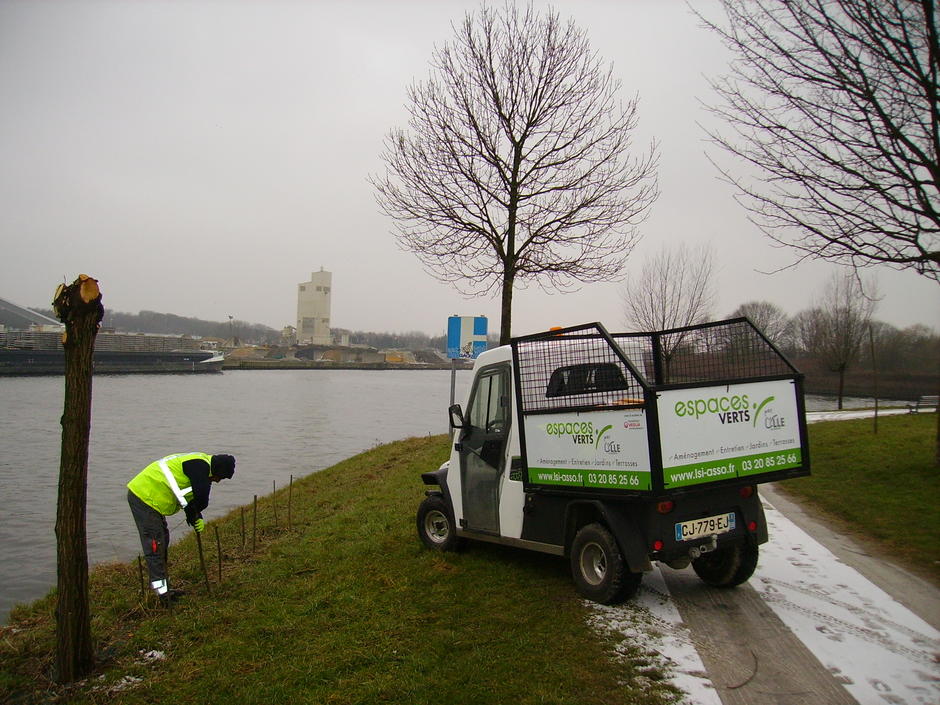 Social and Employment
Place
Lille, France
Sponsor
Thierry Delobelle
Grants
€15,000 to the Selection Committee at 2012/03/06
€10,000 to the Selection Committee at 2015/09/16
Project leader
Lille Sud Insertion
"This highly motivated open space workshop is wise to promote an innovative project that combines workforce development, clean environmental operations (no chemical weedkiller or fossil fuel) and participative approaches in South Lille. "

Thierry Delobelle
Lille Sud Insertion is an inclusion organisation founded in 1993 and has some 30 permanent members of staff split into three divisions focusing on the socio-economic inclusion of residents of South Lille. Adults in difficulty are the association's target group and its initiatives complement that of the district councils and community centres.
 
Social inclusion, back-to-work initiatives and mediation
The association's initiatives include a Support Division which seeks to give a boost to adults in difficulty by supporting them as they reintegrate society and helping them in their social and family lives. Lille Sud Insertion works in partnership with the Local Employment Inclusion Plan, a clinical psychologist and an income support/ tax credit advisor to achieve its aims and objectives. The association seeks to meet each individual's most fundamental needs: healthcare, housing and ongoing support with administrative formalities.
 
Inclusion schemes and workshops are also held to give fresh momentum to the association's beneficiaries who looking to get back to work. The aim is to identify an occupation that fits the individual's abilities. The end goal is to improve the beneficiaries' skills and work with them to set new personal goals. In 2012, the Veolia Foundation supported Lille Sud Insertion's work to redevelop green spaces as part of the Lille Major Urban Project. Some of the team were trained to ensure that a greener approach is applied when working on projects, including educating team members about differentiated management of green spaces, waste sorting, and using non-polluting machines and products. The Veolia Foundation funded the purchase of an electric dump truck, enabling the association to position itself as a leading player in neighbourhood green space development.
 
Lille Sud Insertion also simultaneously did community mediation work, coordinated by a manager with seven adult intermediaries, with the aim being to provide a fresh opportunity for residents to discuss problem issues (neighbourhood issues, National Urban Renewal Agency projects etc). The goal is also to reduce isolation among residents by visiting them in their homes and by working with other social partners and Lille Council services.
 
10 new back-to-work posts
In 2015, the association further developed its green space maintenance business in order to take advantage of economic development opportunities. The aim is to generate employment by creating 10 new back-to-work posts and, in the long term, to create a green spaces inclusion company connected to the inclusion schemes and workshops which are already up and running. To this end, thanks to further funding from the Veolia Foundation, the association is purchasing eco-friendly equipment: hedge trimmers, lawnmowers, electric leaf blowers and plant shredders. The plant shredders will mean that bulky waste will no longer need to be removed from sites and can instead be used for mulching flowerbeds.
"Lille Sud Insertion is our protégé. It is a highly effective back-to-work agency with strong local roots. We have got Lille Sud Insertion working at the Villeneuve wastewater treatment plant where they maintain the green spaces. We are going to involve them in our ISO 26000 (social responsibility) presentation days in June. I also wanted to take advantage of this opportunity to involve them in our exhibition about innovation at Veolia (Energido principle, professional remote meter reading, etc.). My aim is to inform their back-to-work employees about our trades and innovations. Finally, we are going to work with them to develop other opportunities linked to green space upkeep, water mediation, etc." 
Thierry Delobelle