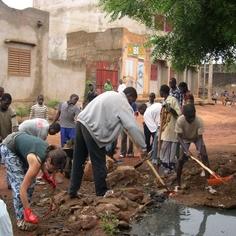 Humanitarian and Development
Place
Daoudabougou (commune V of Bamako), Mali
Sponsor
Jean-Christian Pottier
Grant(s)
6,000 € to the Selection Committee at 2008/07/01
Project leader
Un jour, une pensée
« The project leader took care to provide the most appropriate answer to the needs of the commune.
This is ideally exemplified by the involvement of the local players: it isn't just a makeshift project in a strange environment, but a powerful support for a dynamic and effective local structure.
The French association and the Malian players will intensify together their knowledge of the context, and will identify the training requirements. »

Jean-Christian Pottier
"Un jour, une pensée", a student association formed at the University Jean Monnet in Saint Étienne, has been developing several outreach projects in Bamako, Mali. It is investing more particularly in commune V of the Malian capital - Daoudabougou, which has a population of nearly 40,000 inhabitants, and where it has tackled the problem of the sanitary conditions of this suburb.
In 2006, it had already organized the gathering and disposal of the waste which cluttered the streets, by relying on local players. Their awareness raised by information campaigns on the radio and several events organized in the various neighborhoods, many inhabitants joined the team that started the ball rolling, armed with spades and rakes. The result was conclusive: the streets stayed clean for two to three months.
Planting trees to embellish the city
Buoyed by this initial success, the French students decided to renew this general mobilization quarterly by relying on their Malian counterparts and on the local players (elected officials, health and sanitation specialists).
Economic Interest Groups for source-separation were set up to secure the involvement of the population. Their task will be made easier by a truck purchased with the grant from the Veolia Environnement Fondation.
"Un jour, une pensée" will regularly conduct its various awareness campaigns among the population so that this mobilization will never flag.
To supplement this project aimed to durably improve the urban environment of Daoudabougou, the association is launching a campaign of tree planting along the streets: in addition to fighting desertification and soil erosion, they will provide a welcome shade and further embellish this suburb.