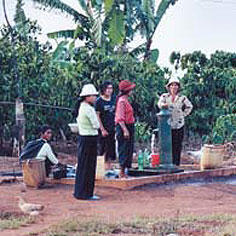 Humanitarian and Development
Place
Bantey Chmar, Cambodia
Sponsor
Paul de Rosen
Grant
30,000 € to the Selection Committee at 2004/09/28
Project leader
« Working on this project has enabled me to gain first-hand experience of the team's professionalism and integrity. The project, with technical back-up from Thierry VandeVelde of Veolia Water, struck me as interesting since it is woven into the local fabric. This small-scale project is both highly practical and transposable. »

Paul de Rosen
Summary
Making a real difference is the undoubted ambition of the founders of the "1001 Fontaines pour demain" association. Its credo is to promote installation of autonomous units for producing drinking water, combining filtration by UV rays with solar energy. In addition to this project it sets up local micro-companies (families acting as small private operators), charged with producing and selling this water at very low prices. The association targets rural populations living in isolated villages who have no infrastructures for the supply of water or energy.
Providing support alongside local NGOs and specialised companies
Installation of the first site is planned for Bantey Chmar, a village of about a thousand families, situated in the north-east of Cambodia, a country whose population has one of the lowest levels of access to drinking water in the world. The association plans to use water from the moats of an ancestral temple to supply the unit. "1001 Fontaines pour demain" worked closely with Veoliaforce on all the technical aspects. Moreover, "Espoir en Soie", an NGO specialised in developing silk weaving activities, will be working locally to ensure the project's long-term future.
A second unit is now planned for Sisophon, a few kilometres from Bantey Chmar, at a children's foster home which has been run by the "Enfants du Mékong" association for many years. Finally, a third unit will be installed in a healthcare environment at the Preah Netr Preah hospital. Commissioning of the units is scheduled for the start of the dry season in December 2004 and an initial evaluation of results is planned for April 2005.
Progress report
The adhesion of the villagers

At Bantey Chmar, nine months after the project began, nearlyone family out of five had already opted for the water treated by the new small private operator. Sold for about 0.17 euros per carboy of 20 liters, this purified water ultimatelysecured the interest of about 800 persons, despite the cost that this new paid service represented for their budgets. Nevertheless, and despite a level of extreme poverty, many heads of family soonrealized the value of using water that was finally "fit for human consumption ".
Flushed with this new success, 1001 fontaines pour demain decided in 2006 to extend the system to 15 000 new beneficiaries spread in eight new villagers. Many organizations were in turn contacted for their aid, including Care, the Cambodian NGO DEEP (Développement Education en Eau Potable) and Caritas Cambodge.