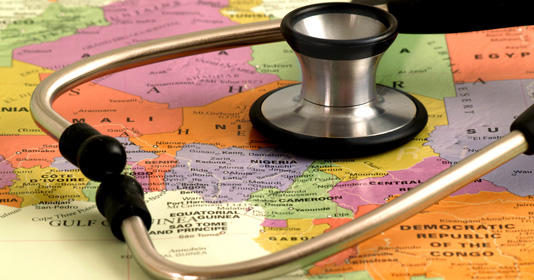 Social and Employment
Place
Benin, Cameroon, Mali, France
Sponsor
Charles Lenes
Grant(s)
30,000 € to the Selection Committee at 2005/10/04
Project leader
"This user-friendly and interactive training tool will be tailored to specific needs. It will enable students to acquire then validate their knowledge as and when they feel the need."

Charles Lenes
In developing countries, and in Africa in particular, nurses play a vital role within health systems. But, due to the lack of resources, they enjoy virtually no access to the kind of continuous training which has now become indispensable. Costs incurred by organisation of seminars and training session as well as related travel expenses are prohibitively high in most cases.
To remedy this situation, the "Formation permanente développement et santé" association (FPDS), which publishes "Développement et santé", the only French-language review aimed at nurses and midwives in Sub-Saharan Africa, has designed a distance-learning solution. It entails a faster and less expensive system, overseen, amongst others, by Dr. Reinert, head of the paediatrics department and professor at the "Collège de médecine de France".
Training for almost 5,000 nurses
This solution will be based on training modules in the fields of prevention, diagnostics and treatment posted on the dedicated website (www.devsante.org) and on prior training of local facilitators. Qualified health professionals who have been trained and supervised by the association's coordinating physician, these persons can rely on online training to prepare their training sessions. For their part, nurses who are keen to perfect the training received or merely assess their knowledge can continue their research online in an independent capacity. The website has been developed on the basis of thirty years of "Développement et Santé" magazine archives.
Primarily developed in benin, Cameroon and Mali, this project will ultimately benefit 5,000 nurses in French-speaking Sub-Saharan Africa and Asia. Alongside the ministry of research, the Veolia Foundation contributed 30,000 euros to setting up the dissemination system during the first year.
Mainly designed in early 2006, the site was launched in July of the same year.From the outset, 420 articles concerning various health care techniques could be consulted and downloaded.A few months later, in November, the first improvement modules appeared in turn.Among the subjects most intensively addressed, the treatments of the most frequently encountered pathologies in sub-Saharan Africa: malaria, bilharziosis, AIDS, tuberculosis... as well as the explanation of simple preventive acts and familiarization with everything concerning water quality.In 2007, the second step of this grand experiment, several training programs were organized in Cameroon and Benin.In the town of Garoua in Cameroon, in the north of the country, a one-day workshop for learning about the Internet -- in a cyber center of the town -- was followed by four days on comprehensive handling of an AIDS patient.
Another example: in Benin, the hospital in Cotonou has set up a training month you concerning drepanocytosis, a disease that attacks pregnant women and nursing infants.Buoyed by these early successes, similar modules are under study in Niger.