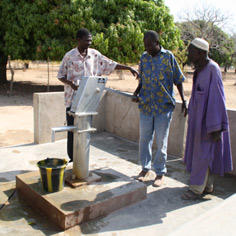 Humanitarian and Development
Place
Ganzourgou Province, Burkina Faso
Sponsor
Philippe Marteil
Grant(s)
€5000 to the Selection Committee at 2010/06/22
Project leader
L'Association de Développement pour des villages de Zorgho (A.D.V.Z.), created in February 2007, works alongside the partners of the village of Digré, in the center-east of Burkina Faso, in the province of Ganzourgou, to carry out joint projects.
The niebe agricultural project has four goals, to train 20 farmers in growing dried beans, the opening of a honey house with modern equipment and beehives for 10 beekeepers, the construction of two primary school classrooms for the children of the village.
Access to water is an indispensable prerequisite to improving the living conditions of the village populations
Drilling a well helps irrigate the market garden crops that produce the food for the school and irrigate the crops of scores of families of the commune, and thereby improve the living conditions of the inhabitants of the village of Digré. The water available guarantees food safety, satisfies the needs of the children for the school kitchen, fights poverty by boosting the farm income of the local population, develops and reinforces this agriculture and the skills of the local players.
The Veolia Foundation contributed to the construction and drilling of the well.