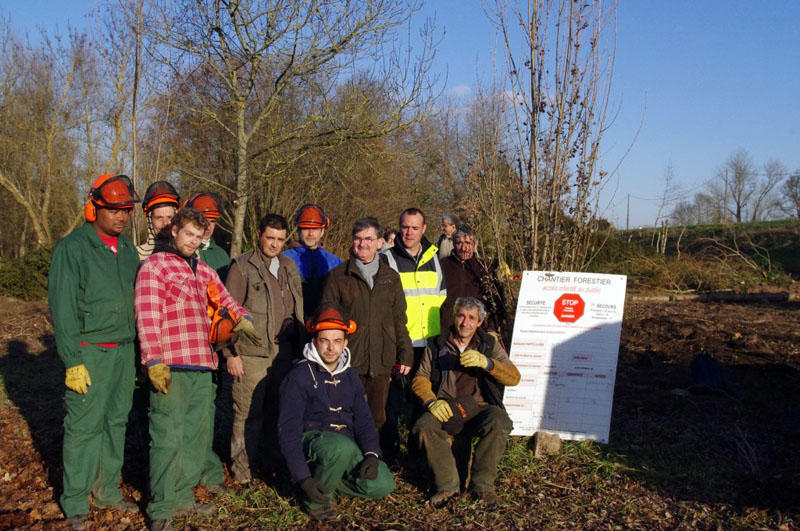 Social and Employment
Place
Chambray-lès-Tours, Indre-et-Loire department of France, France
Sponsor
Éric Gillet
Grant(s)
€25,000 to the Selection Committee at 2005/02/08
  Project leader Entr'Aide ouvrière
« The project worked, there was a real potential for development in this area and we had to give it a chance. Our department in La Riche was also ready to help. »

Éric Gillet
The Entr'Aide Ouvrière Association was established in 1948 upon the initiative of Abbott Gaston Pineau, then the chaplain of the prison of Tours, to help freed prisoners and the homeless. Today, Entr'Aide Ouvrière employs 100 people in first or new jobs under French CES employment-solidarity contracts and 70 in positions covered by the French contract for adaptation to working life called Cava. The work of the Association is recycling wooden pallets, grinding of forest waste, lumber jacking and maintenance of green areas and rivers, as well as activities linked to operating the Association such as catering, laundry and maintenance of premises.
The employment service of the Association, located in the industrial area of Chambray-lès-Tours, provides in-placement to people in their first jobs or new jobs after unemployment, some of whom work on the premises and others at outside work sites. As part of a restructuring to make more room for the wooden pallet recycling facility, the Association installed a wood-burning boiler that will provide lower-cost heating for its premises as well as those of the Chamber of Agriculture, on an adjoining piece of land.
 
Solidarity with the wood business
The business from the wood-burning boiler made it possible to create several new jobs for first-time or unemployed workers, between 2 and 8 full-time.
Entr'Aide Ouvrière has established a business devoted to this new activity and employing first time or unemployed job seekers, incorporated as a French SCIC (Cooperative Company in the Collective Interest) with two to eight full-time positions. The boiler is partly fuelled by waste from the pallet recycling and grinding of forest waste.
The Onyx agency in La Riche, with which the Association regularly works in its recycling activity, also provides pallets to help meet the need for fuel.
The Environment and Energy Conservation Agency financed and approved the technical and business feasibility study as well as the legal and tax status of the future company.
The project investment amounted to €356,600. The Veolia foundation granted €25,000 to help this interesting project, which helped finance part of the boiler and the purchase of a vehicle to collect wood waste.
 
One boiler for two
Since December 15, 2006, the wood-burning boiler has been supplying the buildings of Entr'Aide Ouvrière and the Chamber of Agriculture. A common room has been built to grind and store the wood, and a route has even been created to provide access to the boiler for six ton lorries. This initiative will no doubt inspire similar projects in the region, teeming with all kinds of fuel. At the end of 2006, 25 farmers were using heat from the boilers, burning wood chips, waste wheat and cereals.