Environment and Biodiversity
Place
communities bordering the Weser (Lower Saxony), Germany
Sponsor
Uwe Gährs
Grant
15,000 € to the Selection Committee at 2004/09/28
Project leader
« Renowned for its highly original and effective initiatives, Deutsche Umwelthilfe is once again using direct co-operation with schools and new media to ensure that the project is well publicised from the outset and subsequently stays the course. What makes this project all the more remarkable is that it enables children not only to acquire practical experience of ecology but also to develop key skills through active participation in networks. »

Uwe Gährs
In order to increase awareness of how best to protect water resources and the environment in general, the Deutsche Umwelthilfe association launched an ambitious programme in October 2004 aimed at school children, teachers and communities located along the Weser river. Invited to learn more about the river and its environment, pupils will participate in water sampling and analysis, restoration of the riverbank and tree planting, with each becoming a sponsor of a part of the waterway.
The project, which is founded on networking of the schools concerned, included nature camps for children and training seminars for teachers, publication of a newsletter and the running of a dedicated website.
Punctuated by some sixty or so events of all kinds based around the Weser, the project also involved the creation of one full-time post and the consolidation of three part-time posts.
A tried and tested approach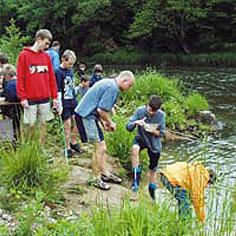 Funding from the Veolia foundation helped cover work to restore the riverbank as well as information panels. The project's budget, financed to the tune of 145 000 euros by BingoLotto, also draws on contributions from schools and local sponsors, as well as revenues generated by the camps and the association's own resources.
Created in 1975, this association has demonstrated its capacity to develop networks around ecological issues. This same approach has already been applied to other rivers and waterways, so as to get communities working towards sustainable development or to give a new lease of life to the Saxony countryside which has suffered the effects of years of coal working.