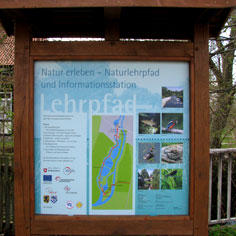 Environment and Biodiversity
Project leader
Aller Oker Lachsgemeinschaft
Place
Meinersen, Germany
Sponsor
Andreas Sommer
Grant(s)
20 000 € to the Selection Committee at 2007/07/03
"In this association of volunteers, we found a serious partner for significantly improving surface water quality, consistent with the requirements of the European framework directive on water for 2015. At Veolia and in the AOLG, we are committed, each in our own way, to serve the same goal. I am deeply impressed by AOLG's capacity to work with the communes, the universities and the Land authorities to implement its project. The project, meticulously prepared and strongly rooted in the region, will certainly be a tremendous success."
Andreas Sommer
Preserving water quality, removing the obstacles erected with the passage of time: these two prerequisites must be fulfilled for the salmon, like any other species, to return to live and spawn in the Aller, the Oker and the other rivers of Lower Saxony which they frequented in happier times. These two priorities guide the battle fought by the volunteers of 18 associations of fishermen and fish enthusiasts, joined in 2002 in the Aller-Oker-Lachsgemeinschaft (AOLG). For years, they have been buying salmon, returning them to the water, to track their migratory route and count those that succeed in crossing the barriers to return to their starting point in order to spawn, four years later. In 13 years, more than 150 000 salmon have thus been "injected" into the Oker.
Observe, Inform, Educate
Educating youths and families in the fragile ecosystem of the rivers, distributing a book and a film aimed at school children, welcoming the public to the breeding stations and points for monitoring the passage of the fish, information and cooperation with all the stakeholders: the AOLG's engagement has persuaded the authorities of the Land of Lower Saxony, and the Federal Ministry of the Environment, and captured the attention of public and private partners. Today, the AOLG is opening a centre in Meinersen, where the bulk of its activities are gathered. With its technical facilities, its aquatic observation station, its lecture room, its information supports and the pedagogical discovery trail arranged in the environs, the association is acquiring a tool that it will need to consolidate its action. Because this privileged place for investigating the behavior of the fish in river systems will perform other missions: teach the young public about the protection of nature and of water resources, thanks to intense cooperation with the schools and kindergartens of the area, and attract all persons interested in the life of the river and of the fish, to ultimately become a fully fledged tourist attraction in a predominantly rural region.
The Veolia foundation is helping to finance the aquatic observation station intended for the public, and the technical equipment of the station (microscope, screen and DVD player).