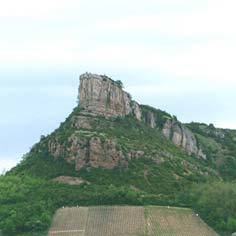 Social and Employment
Place
The communes belong to the perimeter of the Syndicat mixte, Saône-et-Loire, France
Sponsor
Rolland Chavaroche
Grant(s)
25 000 € to the Selection Committee at 2007/05/22

  Project leader Syndicat mixte du Grand Site de Solutré-Pouilly-Vergisson
In prehistoric times, the Rocks of Solutré and Vergisson were very popular sites: the excavations made centuries afterward opened up one of Europe's most important archeological treasures. A step in human development borrowed its name from the place: the Solutréen period is known for its "bay leaf" flints and its hunters who pushed wild horses over the precipice.
After the prehistoric peoples, the Gallo-Romans took possession of the area and enriched it. Today, nearly 120 000 tourists visit the region every year.
Structural renovation and nature protection
The Syndicat mixte du Grand Site de Solutré-Pouilly-Vergisson was created in 2000 to preserve the site from any deterioration liable to occur on account of crowding. Since then, it initiates and directs projects to enhance the area. Among the 36 projects detailed in its framework Convention for Operations signed in 2003, is a section called "Restoration and Upgrading of Small Built Structures", which concerns the rehabilitation of the small vernacular structures, extremely rich, in the six rural communes encompassed in the site. In this setting, six worksites gathering together young Europeans and youths experiencing school and social difficulties have already been completed successfully.
Today, the Syndicat mixte is expanding this action to satisfy the demand from the population and local officials. Within the perimeter of the six communes of the Grand Site, a new worksite integrating eight employees, lasting one year and renewable twice, will be inaugurated. To diversify the activities offered to the new employees, they will be invited to work on Natura 2000* zones: creation of parks for horses, limitation of vehicle access by erecting barriers, upkeep of walking trails and natural spaces, etc.
By joining this project, the Veolia foundation is funding the acquisition of worksite equipment and a trailer.
* Natura 2000: European network for the preservation of natural habitats and habitats of protected species.