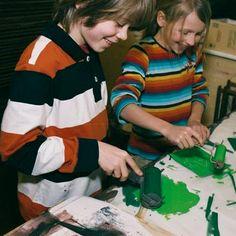 Social and Employment
Place
Leipzig, Saxony, Germany
Sponsor
Katrin Godde
Grant(s)
11,500 € to the Selection Committee at 2008/03/26
Project leader
« The core idea of the association is fascinating. The book, an instrument of conventional education, opens up so many alternatives for the children, adolescents and adults, and enables them to evolve both personally and professionally! »

Katrin Godde
Created in 2001 at Leipzig, the association Les Enfants des Livres proposes creative workshops, where children and adolescents aged from 4 to 18 can produce their own book.
This enables them to develop several skills: writing, a critical mind and teamwork. They also learn to present their "work" in public. Finally, the design of a book offers them an approach to the various publishing crafts.
The association offers its courses in four different locations of Leipzig and collaborates with five schools and a kindergarten focusing on reading.
Its courses enrich their school program. It also works with a prestigious city theater.
After completion, the books are displayed in exhibitions and fairs. The association has won many prizes, including the Startsocial, which rewards the best social projects in Germany under the sponsorship of chancellor Schröder.
Training in publishing
To run the workshops, the association employs 12 persons, assisted by a score of volunteers to welcome a hundred children. As a result of its success, however, its premises have become too small, and many applications remain unanswered: the waiting list for new registrations is two years long!
The association moved in 2007 to a warehouse in the historic printing neighborhood.
Its 4600 square feet, still unfinished, will enable it to expand its courses, and also to welcome children from immigrant families. This teaching should facilitate their learning and understanding of the language.
Besides, the association, which works alongside the Labor Agency, will offer skills training in the book crafts. Reserved for persons in difficulty, they will last one year and will address the various skills in this area: printing, writing, page formatting, publishing, etc.