Social and Employment
Project leader
Place
France
Sponsor
Philippe Langenieux-Villard
Grant
15,000 € to the Selection Committee at 2004/07/06
People in large cities rarely show concern for their neighbours anymore. The Peuplade association, founded in 2001, decided to put an end to this all too common reality of urban life. It developed a concept for an Internet site dedicated to all things neighbourly with the goal of being a "catalyst for social life". With sections dedicated to local initiatives, employment, social involvement, as well as downright practical requests for help (going to pick up children at school, repaint an apartment, organise a carpool, etc.), the association designed this new site as a tool to give new life to connections between neighbours.
In 2003, the site www.peuplade.fr was inaugurated in the Épinettes neighbourhood of the French capital's 17th arrondissement.
To enable it to expand its functions, the Veolia Foundation decided to back its projects from the month of July 2004, alongside the 17th arrondissement mayor's office, the Fondation RATP, SFR and the BNP.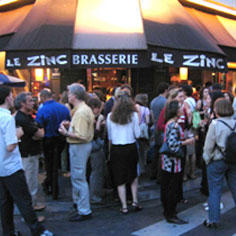 Since then, the initiative has snowballed throughout the capital. In 2006, more than 32,000 neighbors were already regularly surfing the site, in all the arrondissements. More importantly, Peuplade.fr started fostering meetings with isolated persons, elderly persons living alone, homeless, etc.) and promoting outreach projects: tuition support for children, evening workshops for adults, as well as soup kitchens and evening get-togethers.
In 2007, flushed with success, Peuplade plans to repeat the initiative in other large cities. Grenoble has already declared its candidature.