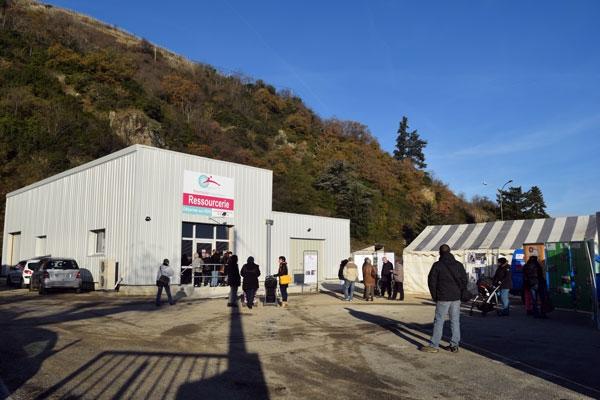 Social & Employment
Locations:
Vernoux en Vivarais (Ardèche, France)
Saint-Vallier (Drôme, France)
Sponsor:
Bruno Bertini
Grants:
€20 000 during the Committee meeting on 04/04/2016
€20 000 during the Committee meeting on 28/11/2018
Project Owner
Tremplin Horizon
« Tremplin is a very effective association which is recognised and highly appreciated by the communities in the region. Its teams help many people in difficulty find work in a remarkable way. »
Bruno Bertini
Tremplin has come a long way since it was created in 1988. Félix and José Pélaez who defend the rights of the excluded state that the right to work is at the origin of this association promoting social inclusion through economic activity. Today, the group includes six organisations, companies, and associations that offer their services to private or corporate customers with the sole objective of organising the return to employment of employees on inclusion schemes who have been recruited. Today, Tremplin has some forty permanent employees and welcomes approximately 650 employees on social inclusion schemes every year. They receive individual and personalised support and individual training related to their careers.
 
Among the many activities developed is the Resource centre - Tremplin Horizon, an organisation for social inclusion through economic activity created in 2009 with a focus on recycling and reuse. This development led to the opening of resource centres in Vernoux-en-Vivarais, Saint-Péray, and Tournon. These centres manage the collection, recovery, and resale of goods in a given region.
 
Resource centres fostering regional development
In 2013, Tremplin Horizon opened the first resource centre in Vernoux-en-Vivarais, Ardèche. In this rural area, it created 12 jobs, eight of which are held by women.
 
The success of this initiative led to the model being used in Tournon which is particularly suited to this type of project: potential sources of products to collect (furniture, objects, office waste), easy distribution channels, etc. Thanks to the support of the Veolia Foundation, the project was launched in late 2016, after the construction of a 300-m² building to store the bulky waste collected and to sort and renovate all items that can be recovered. A branch was also opened in Saint-Péray, west Valence.
 
Sustainable employment
This new activity has created 23 jobs in the three resource centres. It contributes to reducing the waste managed by local authorities and develops reuse: 350 tonnes were collected in 2017 with a recovery rate of 97 %. The group is working to this end with several recovery organisations and stakeholders: Ecologic for the recovery of waste of electrical and electronic equipment (WEEE), Valdélia for the re-use of business furniture, Eco-furniture for the reuse of home furniture, Batribox for the reuse of batteries, Recyclivre for the recovery of books, Gébetex which buys old textiles, and Veolia for the recovery of waste paper, cardboard, books and magazines, etc.
 
Tremplin also runs complementary activities with the collection of office waste, the destruction of confidential documents, and the collection of textiles in containers offered to municipalities. Several agreements with communities have been entered into. The Foundation's, which was renewed in 2016, makes it possible to aim for a target of 100 tonnes of waste collected per year while maintaining a recovery rate greater than or equal to 90 %.
 
This increased ambition is also based on the opening of a new plant in Saint-Vallier, Drôme, in 2019. Elected officials of the Porte Drôme community of municipalities contacted Tremplin Horizon for this purpose. The location has been identified as having ideal characteristics in terms of population density and potential sources of products to collect (furniture, objects, office waste, etc.).
 
The project, supported by the Veolia Foundation, will create eight social inclusion jobs: four collection-recovery agents (employees dedicated to the collection of objects from individuals and waste collection centres, to the collection of textiles deposited in containers, and the collection of office waste from communities), four workshop-sales employees (employees in charge of recovery by sorting and shelving and selling the collected objects), and a technical supervisor under a permanent employment contract. When re-use creates sustainable jobs, the Veolia Foundation supports its partners.